---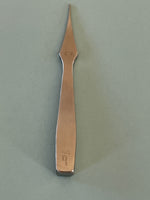 Sale
Pricking Irons: Individual Irons: Single Tooth
Sale price $19.00 Regular price $30.00
NOW CLOSEOUT PRICING!
LIMITED TO STOCK ON HAND
ORIGINALLY $30, now just $19!
Pricking Irons are the soul of hand stitched leathergoods, so, it pays to have the best pricking irons to help you get the best results in your projects.  Months in the making, we are proud to launch these custom irons to you.  Using both JunLin Tan and Ellen Valentines' extensive experience as leatherworkers, we had very stringent requirements for these irons. 
In addition to the manufacturing process, JunLin hand finishes each iron to ensure they are sharp, yet polished from the minute you get them. If you need an additional size (20 tooth,11 tooth, two tooth, check the other listings).  
The single tooth is wonderful if you need to 'split the difference' at the end of your pricking and your space is larger than you need, but too small for a 2 tooth punch. 
The pricking irons are available in the following sizes:
2.5mm
2.7mm
3.0mm
3.38mm
3.85mm