---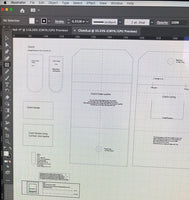 CLASS: Adobe Illustrator for Patternmaking - 1 on 1 class
Have you always wanted to learn how to use the computer to design your own leatherwork patterns?  If so, then this course is for you.  The course consists of three 40 minute Zoom computer sessions.  The course is 1 on 1 so you can proceed at your own pace. 
The payment for the entire course is due before the first session.  The second and third sessions will be scheduled after you complete the first session and feel ready to move on for the next topics.  Additional 40 minute Zoom session increments can be purchased after the initial course if you have a specific pattern or project where you need guided help.  

Session 1 - General controls, shapes and editing techniques using Adobe Illustrator. Homework Exercise: Making a wallet Pattern
Session 2 - Learning Layers and the Pen Tool. Homework Exercise: Pen Tool and Layer Practice. Making Wallet Card Slots with Curves

Session 3 - Making a gusseted clutch. Printing a tiled pattern.
This course uses Adobe Illustrator (r).  Although the principles may be the same across different software products, the course demonstrations and instruction are all based on Adobe Illustrator.  
You will need a laptop or desktop with Adobe Illustrator installed before you begin the course.
Adobe and Adobe Illustrator are registered trademarks of Adobe, Inc.